EDUCATUM JOURNAL OF SCIENCE, MATHEMATICS AND TECHNOLOGY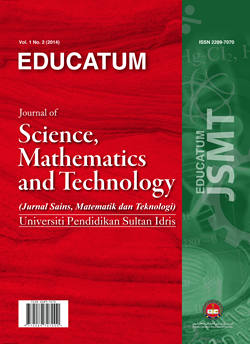 EDUCATUM Journal of Science, Mathematics and Technology (EJSMT – ISSN 2289-7070 / eISSN 2462-2451) is a peer-reviewed journal published by UPSI Press, Sultan Idris Education University, Tanjong Malim, Perak, Malaysia since 2014. JSMT is devoted to the publication of original research papers, scientific reviews and short communications on various aspects of science and technology such as biology, chemistry, physics, mathematics, engineering, ICT, agriculture science, biotechnology, science education, mathematics education, technical and vocational education. EJSMT is published twice (2) a year in June and December beginning 2014.
JOURNAL OF SCIENCE AND MATHEMATICS LETTERS​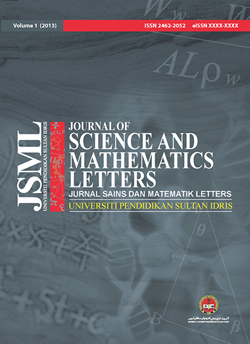 JSML (ISSN 2462-2052 / eISSN 2600-8718) is a peer-reviewed journal published by Faculty of Science and Mathematics, Universiti Pendidikan Sultan Idris (UPSI). JSML UPSI is an interdisciplinary journal that provides a forum for communication and dissemination of knowledge through articles by Science and Mathematics researchers who are involved in various aspects of Biology & Biology Education; Chemistry & Chemistry Education; Physics & Physics Education; Mathematics & Mathematics Education and various aspects of Science and Mathematics Applications. JSML UPSI is published once a year in December since 2013. JSML UPSI was formerly known as JOURNAL OF SCIENCE AND MATHEMATICS UNIVERSITI PENDIDIKAN SULTAN IDRIS (JSM UPSI – ISSN 1985-7918). Issues of JSM UPSI were published twice a year in 2009 until 2012.